INASE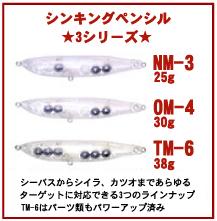 Classic sinking pencil for Bull Mahi & Bluefish!
≪INASE RM2≫ TOPWATER PENCIL 
when the fish are in a frenzy, cast INASE RM2! After casting RM2 out,simply shake your rod tip and hang on! If this don't work, we also recommend giving RM2 a couple hard jerks!
≪INASE TM6≫ HEAVY WEIGHT SINKING PENCIL
TM6 is our Iift and fall specialist! Equipped with heavy internal weights, TM6 falls with a seductive fluttering action! Great for shallow,bottom dwelling predators as well!
●MADE IN JAPAN