Penny Suck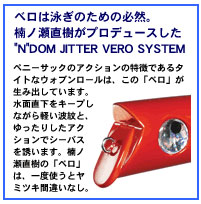 Penny suck is neither a popper nor surface derter,its a minnow with a naturally irresisteble wobble+rolling action.
●MOKKA version is our shallow running model that dives up to 50cm.Were commend using MOKKA on the flats or in shallow rivers and streams. Simply put, our shallow water monster killer!
●SYODAI is our mid-range model that swims anywhere between 50-80cm depending on your rod tip placement.
we recommend using SYODAI while fishing from a seawall or wherever slightly deeper approach is necessary.
●This tungsten version of PENNY SUCK comes with a 10mm sized tungsten weight.
This large tungsten weight makes TUNGS10φour deepest swimming ( approx. 1M )and heaviest model.
prefect when needing to make a long cast on a windy day!
●MADE IN JAPAN